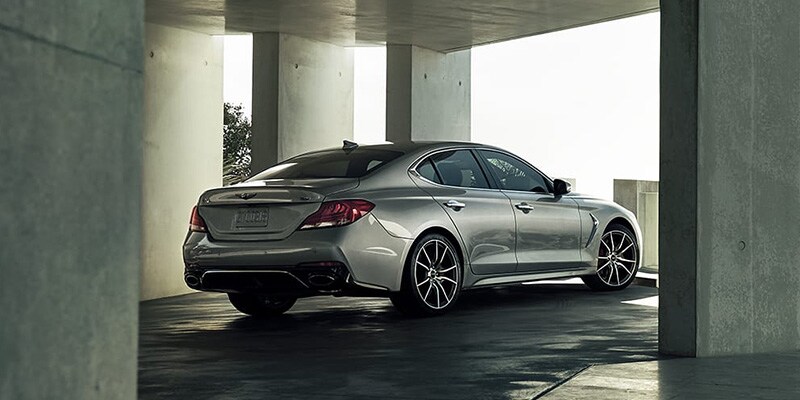 With impeccable performance, intelligent technology, and breathtaking design, the Genesis G70 Sedan arrived ready to make a statement. Since its debut, it has become one of the most decorated sport sedans available, accruing honors and recognitions at breakneck pace.
Recently, its list of accolades was extended again as the G70 was named the Best Winter Sedan by the New England Motor Press Association (NEMPA). It also earned the award for Best Panoramic Sunroof Sedan from the Southern Automotive Media Association (SAMA).
You can view the complete list of awards for the G70 below, and you can also test drive this high-achieving sedan at our dealership in Concord, North Carolina. Find a car in our inventory of new Genesis vehicles for sale, and let us know so we can make all the arrangements. Learn about our latest Genesis deals available now. 
---
Genesis G70 Awards
Best Luxury Sedan for 2019 - Ruedas ESPN (10/18)
2019 Car of the Year - MotorTrend (11/18)
10Best Award for 2019 - Car and Driver (11/18)
Best Deluxe Car for 2019 - Hispanic Motor Press (11/18)
2019 North American Car of the Year Award - NACTOY (1/19)
2019 Car of the Year - AutoGuide (1/19)
Shift Award - 2019 Vehicle of the Year - Roadshow by CNET (1/19)
Overall Best of 2019 - Cars.com (2/19)
2019 Driver's Choice - Best Luxury Car - MotorWeek (2/19)
2019 Sport Sedan of the Year - Esquire (3/19)
2019 Best New Car - Autotrader (4/19)
2019 Sedan of the Year - Popular Mechanics (4/19)
2019 Best New Car - Good Housekeeping (4/19)
2019 10 Best Interior - Ward's Auto (5/19)
2019 Best Winter Sedan - NEMPA (5/19)
2019 Best Panoramic Sunroof Sedan - SAMA (5/19)